Les enfants peuvent venir s'initier à l'apnée chez Bora Bora Freediving & Yoga dès l'âge de 8 ans.

Nous sommes très fiers d'avoir développés depuis maintenant plus de 3 ans une pédagogie adaptée et personnalisée à 100% pour les enfants.
Bien sûr, nous en apprenons encore tous les jours grâce à eux et à tous nos élèves.
Cependant, ce qui reste le plus important pour nous est qu'ils soient rassurés, à l'aise et en SÉCURITÉ afin de passer un moment privilégié et inoubliable dans le milieu marin.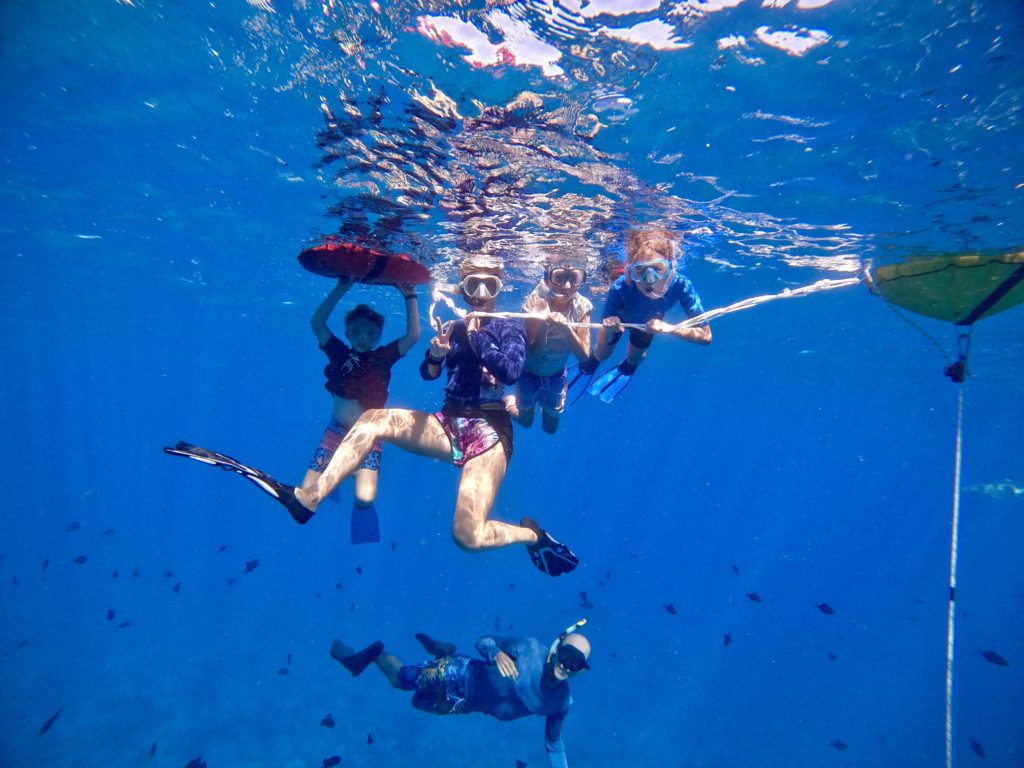 Baptême d'apnée
1/2 journée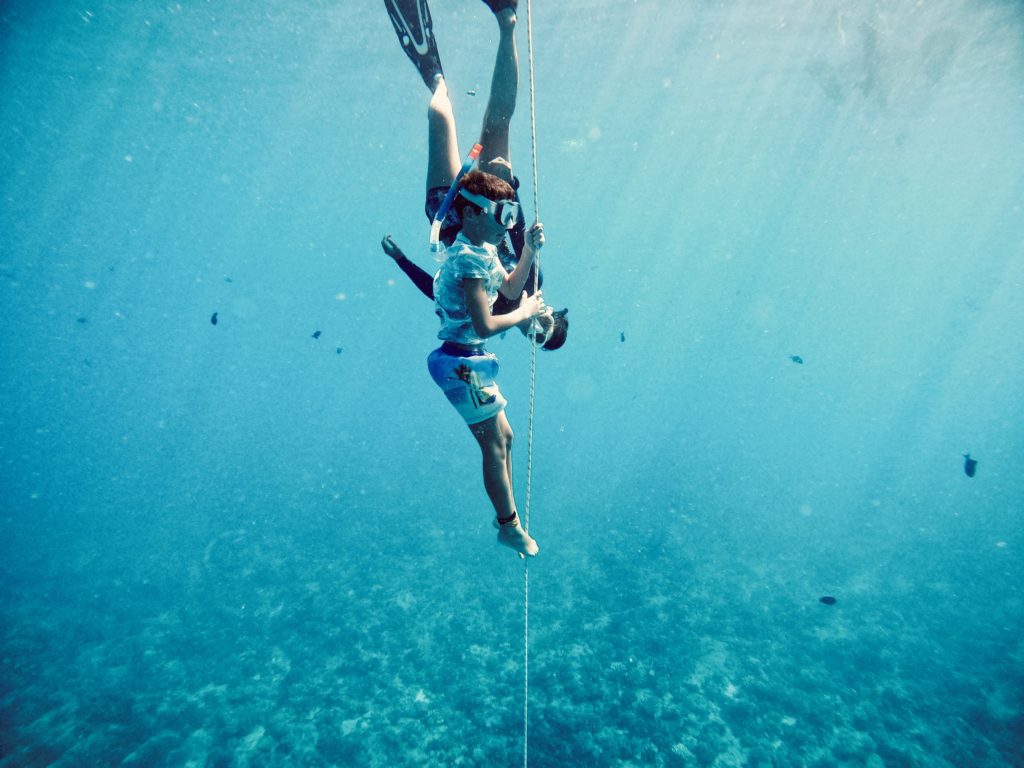 Journée Initiation
" Pirate du Lagon "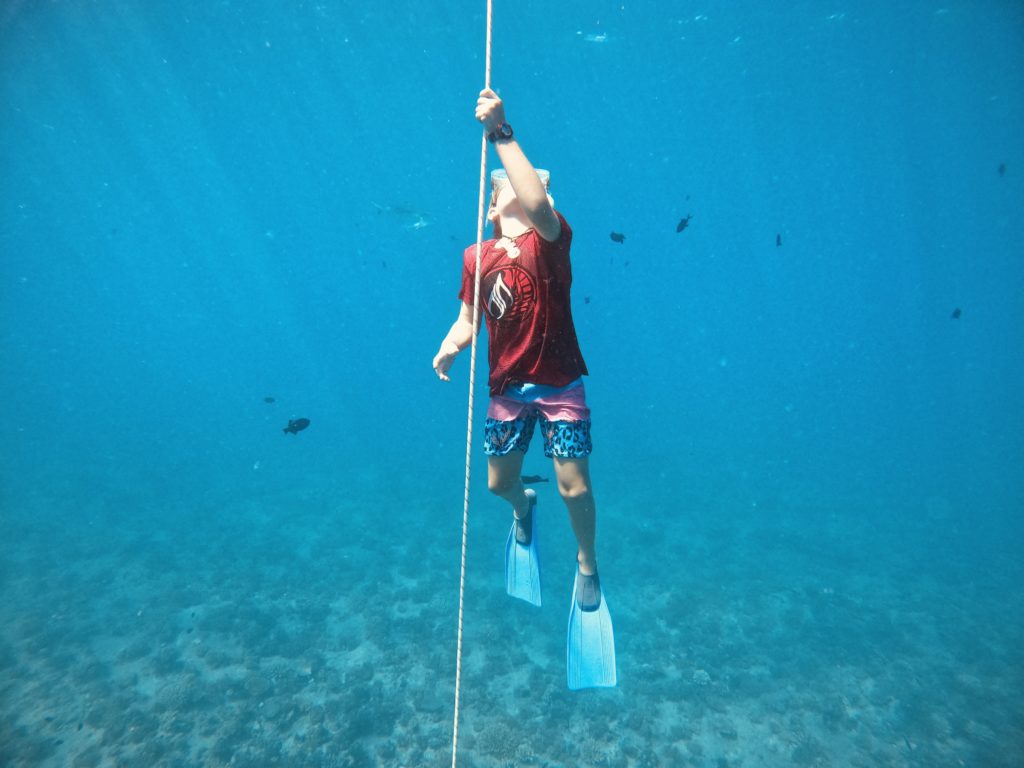 Entrainement & Exploration
1/2 Journée
ENTRAINEMENT & EXPLORATION
Les sessions profondeurs apnée pour les kids ont lieu toutes les semaines sur demande.
Durant la session, vous pourrez déposer votre enfant à l'heure du début de la session et le récupérerer à la fin. Votre présence et votre participation ne sont pas nécessaires.
En revanche, pour des raisons de sécurité, la session profondeur sera possible seulement pour les enfants ayant participé à la journée formation  Pirate du Lagon.
Remember your childhood ! Haven't you ever dreamed of being a pirate !!
During this day, your child will discover all the apnea basics for a safe practice while having fun.
Scheduled, games, discovery and exploration of the sea life on board of Pollux, the school boat.
At the end of the day, your child will have learned all the knowledge necessary to practice apnea in autonomy during supervised courses.
Le baptême d'apnée est accessible à tous les enfants débutants, novices sachant bien nager.
Nous proposons deux baptêmes différents en fonction des envies et du niveau de votre enfant.

Que cela soit le baptême niveau "crabe " ou le baptême niveau " poulpe ", cela lui permettra de découvrir les clés fondamentales de l'apnée comme la respiration, la relaxation, la compensation et bien sûr la sécurité. 
L'important pour nous est que vos enfants découvrent l'apnée en toute sécurité et qu'ils y prennent du plaisir.
A MEDICAL STATEMENT OF LESS THAN A YEAR OLD INDICATING : "NO COUNTER INDICATIONS TO THE PRACTICE OF APNEA" AND A PARENTAL AUTHORIZATION (WRITTEN BY BOTH PARENTS) AUTHORIZING YOUR CHILD TO PARTICIPATE TO THE AQUATIC ACTIVITIES WILL BE NECESSARY.
ALL THE AQUATIC ACTIVITIES FOR THE CHILDREN ARE POSSIBLE OVER 8 YEARS OLD.