1 hour of yoga to prepare yourself physically and mentaly for your deep training sessions.
WHY IS YOGA A FUNDAMENTAL STEP FOR PRACTICING FREEDIVING ?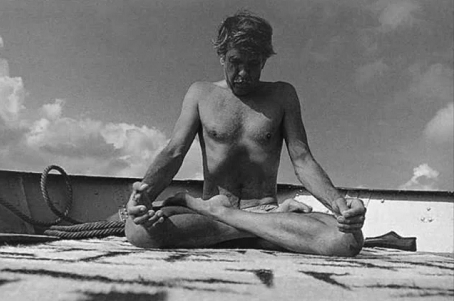 JACQUES MAYOL in 1969 preparing for a descent.
Yoga and apnea may be two distinctive disciplines, they're also intimately connected. Yoga aims for the control of the body and the spirit by a daily practice of the yogi disciplines, while apnea doesn't aim for this control but needs it. The exercises mastered by the yogis are key steps for the freediver. They help you reach : physical and psychological well-beeing, body and spirit release, controled breathing, self control ! Every champion uses yogi techniques to train themselves and enhance their performance in total safety and that from the begining of sport apnea.